KANAGATA GROUP DEVELOP CO.,LTD. was formed by 12 companies. These 12 companies involve supplying and manufacturing professional car panel and parts development. Because we all have the same concepts and target linked up to invest and join up a professional research and development team.


Our group work together from shape-designing of a completed car, CAD/CAM/CAE, design and plan of stamping die, checking fixture and jigs, pattern manufacturing, CNC machining, die manufacturing, checking fixture manufacturing, jig manufacturing, standard parts manufacturing and completed car assembly etc., integrate related skills, and divide the work and corporate together with the systematic institutional framework management operation.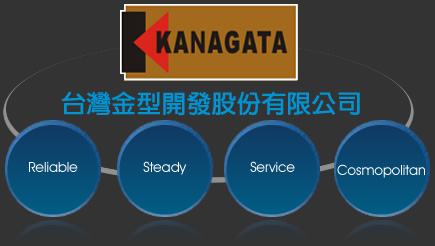 We believe in:《 Reliable, Steady, Service, Cosmopolitan》management idea and to seek endless:《 technology lead, highest quality, top efficiency, dispatch on time, reasonable price 》, as our group's key strategy to satisfy our customer's requests.


All members of KANAGATA GROUP DEVELOP CO.,LTD. Firmly believe to improve and grow together by learning continuously. Become a top excellent business group in order to serve the car industry and then to contribute to mankind for a happier future.


We will carry out completely by:

●Company's management is based on mutual reliance between owner and staffs.

●KANAGATA group honors all customersand receive their applause in return.

as our first guideline for KANAGATA GROUP DEVELOP CO.,LTD.

We look toward the future by

●Base on the main china to develop KANAGATA GROUP.

●Have the cosmopolitan in mind to create the future.

to challenge the 21st

e

century.